About me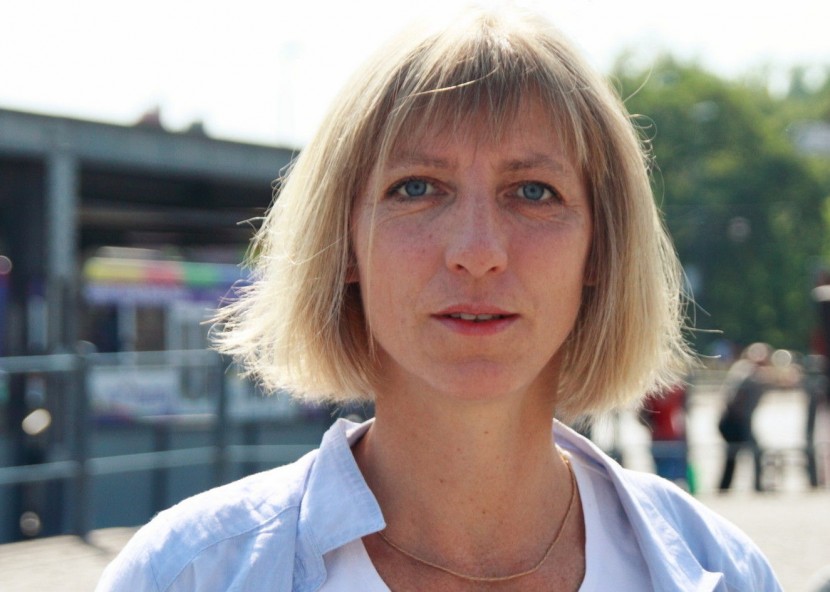 Katarzyna Słysz-Urbanowicz, born in 1968 in Krakow, is a professional painter and graphic designer. She studied painting at the Academy of Fine Arts in Krakow, Poland, from 1988 to 1993 (graduating as a Master of Fine Arts). During her time at the Academy she also studied book illustration, chalcography and lithography.
In 1992 she won a scholarship from the Austrian Ministry of Education to the International Summer Academy of Fine Arts in Salzburg.
From 1983 to 1988 she attended The State High School of Fine Arts, Krakow, Poland.
Her paintings are usually based on figurative references with varying degrees of creative intervention. Light and the study of landscape or other natural forms are the basic building blocks of her work.
Cathy has participated in 11 solo and nearly forty group exhibitions.
Her favourite activities include skiing and sailing.
INDIVIDUAL EXHIBITIONS:
November 1993 – Diploma works and a few more pictures, Kossakówka Gallery, Krakow, Poland

August 1994 – 'The Freedom of Frames', Spectra Gallery, Helsinki, Finland

January 1996 – 'The Rule of Frames', Brama Gallery, Warsaw, Poland

November 1996 – 'Near the Studio', M Gallery, Krakow, Poland

July 1997 – 'Paintings', Space Gallery, Krakow, Poland

November 1998 – 'Landscapes of Provence', French Institute, Krakow, Poland

June 1999 – 'North-South', Villa Decius, Krakow, Poland

November 2000 – 'Selected Works', Da Gama Association, Krakow, Poland

April 2003 – 'The Four Elements', Audialna Gallery, Krakow, Poland

October 2005 – 'Lumen Mundi', Norwid Cultural Centre, Krakow, Poland

November 2012 – At the Attic Gallery, Provincial Public Library, Krakow, Poland
SELECTED GROUP EXHIBITIONS :
1994 – 'New Members of the Association of Polish Artists and Designers', Pryzmat Gallery, Krakow, Poland
1994 – 'Spring Painting Exhibition of the Association of Polish Artists and Designers', Palace of Fine Arts, Krakow, Poland
1994 – 'Polish Architecture and People', The Old Guardhouse, Warsaw, Poland and Piast Gallery, Tokyo, Japan
1994 – 'Meeting in North Carolina', Zone One Contemporary Gallery, Asheville, USA
1995 – 'Show of Five', ZAR Gallery, Krakow, Poland
1995 – 'Sicily in Krakow', Sukiennice Gallery, Krakow
1995 – The 18th 'International Independent Exhibition of Prints', Kanagawa, Japan
1995 – Glean River Digital Art Gallery, Weston, USA
1995 – 'Polish Impressions', The Old Guardhouse, Warsaw, Poland and Piast Gallery, Tokyo, Japan
1996 – 'Spring Salon of Painting and Sculpture of the Association of Polish Artists and Designers', Palace of Fine Arts, Krakow, Poland
1996 – 'The Teachers We Remember, the Pupils We Should Remember' – 50th Anniversary of the State High School of Fine Arts, Palace of Fine Arts, Krakow, Poland

1996 – 'Inter-Typo Poster', Munkácsy Mihály Múzeum, Békéscsaba, Hungary

1996 – 'Catch the Moments as They Fly: International Contemporary Art in the Spirit of Robert Burns', Gracefield Arts Centre, Dumfries, UK (also a touring exhibition in Scotland and Ireland)

1997 – 'Faces of Slovenia and Its People', Krka Gallery, Ljublana, Maribor, Slovenia

1997 – 'The Present Situation – The Autumn Salon of the Association of Polish Artists and Designers', Palace of Fine Arts, Krakow, Poland

1997 – 'Polish Landscape', Sukiennice Gallery of the Association of Polish Artists and Designers, Krakow, Poland

1997 – '2nd Autumn Salon of Fine Arts', BWA Gallery, Ostrowiec Swiętokrzyski, Poland

1998 – 'Vox Humana '98, 4th International Biennial of Young Artists', Prague, Czech Republic

1998 – '17th Festival of Polish Contemporary Painting', Pomeranian Dukes Castle, Szczecin, Poland

1999 – 'French Impressions', Historical Museum of Krakow, Poland

1999 – 'About Us Today', Palace of Abbots State Museum of Gdansk, Gdansk-Oliwa, Poland

1999 – 'The Great Opening', Design Gallery, Krakow, Poland

2000 – 'Plein Air Closing Exhibition', Banowce, Ljubljana, Slovenia

2000 – 'Egeria 2000', Fine Arts X Salon, Ostrów Wielkopolski, Poland

2000 – 'III Triennial of Self-Portrait', Museum of Contemporary Art, Radom–Łódź–Toruń–Częstochowa, Poland

2001 – '4th Biennial of Small Scale Paintings', Toruń, Poland

2001, September-October – National Museum in Szczecin, Poland

2002 – 'The Dialogue of Provençal-Galician Perceptions' (Eastern Europe Galicia), Aix-en-Provence, France

2002 – 'The Meeting of Five in Dockland', London, U.K.

2003 – '5th International Triennial of Religious Art', Częstochowa City Gallery of Art, Poland

2009 – 'Nowa Huta Art Salon', Centrum Gallery, Nowa Huta Cultural Centre, Krakow, Poland

2011 – 'Art Salon Marking Centenary of the Association of Polish Artists and Designers Krakow Branch', Palace of Fine Arts, Krakow, Poland
SET-DESIGN:
1991, 1993 – Chief Set Designer for the Shanties International Festival of Sailor's Songs, Krakow, Poland

1994 – Chief Set Designer and Graphic Designer for IX Baltic Festival of Sea Songs, Gdynia Music Theatre, Poland
MURALS & RELIGIOUS ART:
1998 – Descent of the Holy Spirit – design and execution of a 4 × 1.9 m Altarpiece, St Joseph Parish Church, Słupsk, Poland

1999 – Last Supper – design and execution of a 25 sq. m mural in the apse and dome, Daughters of Charity of St Vincent de Paul, Provincial House, Krakow, Poland
GRAPHIC DESIGN:
2000 – Cabaret, Early 20th Century, Berlin, Munich, Krakow, Vienna, Zürich; Published by Dom Norymberski

2011 – Illustrations for Between the Worlds, The Interpreter and Intercultural Communication in the Literature of the Discoveries and Conquest of the Americas (Original title: Między Światami, Tłumacz ustny oraz komunikacja międzykulturowa w literaturze, odkrycia i konkwisty Ameryki); Published by Jagiellonian University Press, Krakow